Stampendous! Cocoa Hot Tub
Hello and Happy National Cocoa Day Crafty Friends! Today is day 13 of my Countdown 2 Christmas Series, my project features the super fun Stampendous! Cocoa Hot Tub Cling Stamp along with the Marshmallow Friends Cling Stamp.  I was super excited and honored when Stampendous! invited me to create a few projects for their July 2019 Catalog🙂  I wanted to share a similar/same card with you all.  Just making a a semi-shaker card with Shaved Ice, perfect for National Cocoa Day wouldn't you agree:)
HOT COCOA FUN FACTS
The National Cocoa Day is celebrated on December 13 this year. This food day is a perfect occasion to indulge yourself with a cup of hot cocoa or some chocolate confections.
Cocoa powder often referred to as simply cocoa is made of cocoa solids which remain after the extraction of cocoa butter from cacao bins. Cocoa is rich in flavor antioxidants. It is a key ingredient of chocolate. Cocoa powder is used to make hot cocoa, also known as hot chocolate.
Hot chocolate can be made with cocoa powder, shaved chocolate, or melted chocolate combined with heated milk or water, and sugar. The first cocoa beverage is believed to have been created by the Maya people around two thousand years ago. Of course, it has undergone considerable changes since then.
To celebrate the National Cocoa Day, make a cup or two of cocoa to enjoy. Here is a simple hot cocoa recipe. Whisk together 2 tbs of cocoa powder (unsweetened), 1 to 2 tbs sugar, 2 tbs milk and a pinch of salt in a small saucepan over medium-low heat. Make sure that sugar and cocoa are dissolved completely.
Whisk in 1 cup of milk and heat over medium heat until hot, whisking occasionally. Stir in 1/4 tsp vanilla extract. If you have lactose intolerance, you can substitute cow milk with almond, soy, or rice milk.
If you would like to check out the Cocoa Hot Tub step by step Printable Tutorial over at the Stampendous Shop, CLICK HERE.  Plus there is much more wonderful inspirational card projects using this stamp too:)
You can watch how I made this card over on my YouTube Channel, Just Click Here.  Time to grab your coffee friends and let's get to crafting! Have a Wonderful day! Hugs, Tina
Supplies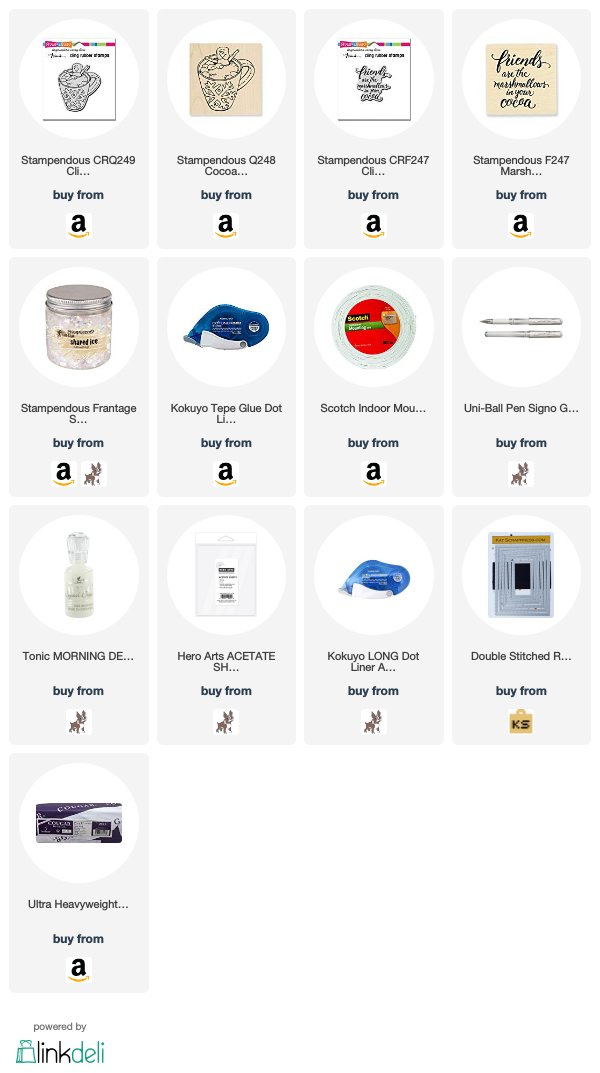 Happy Crafting to You!